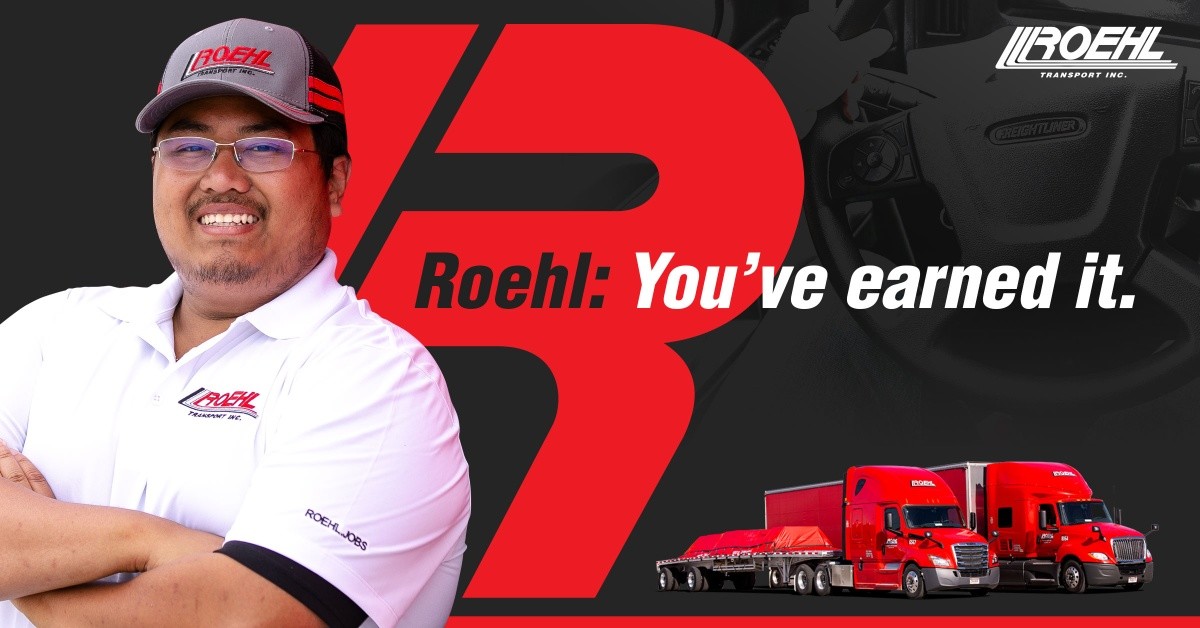 Truck Driving Jobs at Roehl
This company's jobs will be updated shortly...
Requirements
Driver Type(s)
Company Driver
Owner Operator
Student Driver
Benefits
Health Insurance
Vision Insurance
Dental Insurance
Life Insurance
Cargo / Collision / Liability Insurance
Retirement Plan
Paid Vacation
Paid Weekly
Layover Pay
Direct Deposit
Short Term Disability
Profit Sharing
Performance-Based Pay Plan
Detention Pay
Load Pay
Longevity Bonus
Paid Holidays
Paid Lumpers
Paid Orientation
Performance Bonus
Referral Bonus
Safety Bonus
Annual Bonus
Fuel Bonus
Breakdown Pay
Incentives
Late model, expertly maintained equipment. Average age of trucks is 1.75 years
Rider Program
Pet Policy
Assigned Dispatchers
Child Rider Program
Spouse Rider Program
Owner Operator / Truck Lease Program
Military Service Recognition
Company Overview
Roehl
877-989-8933
Roehl is the place where experienced truck drivers come to grow and thrive in their careers.
We have national, regional, dedicated and local truck driving jobs in our dry van, flatbed, refrigerated and curtainside divisions.
Roehl has opportunities for your personal career development, and as an experienced driving professional, you can participate in the Your Choice Pay Plan, a specialized pay plan that allows you to earn a pay increase each quarter, up to our top rate. Plus, with our practical miles pay, you get paid for more of the miles you actually drive (5-8% more).
Roehl has the industry's leading home time options that range from flexible national fleets (home three days after being out eleven to fourteen) to home weekly regional and dedicated fleets. Our HOMEtime PLUS fleets offer consistent, dependable schedules with up to 26 weeks off a year. You can choose a fleet and home time schedule that works for you.
Our equipment is very new (the average age of our trucks is 1.75 years and we have both manual shift & automatics), and we have an excellent benefits package including health, dental, life and vision insurances, a 401k plan, profit sharing and passenger and pet policies. We have major terminals in Chicago, Atlanta, Phoenix, Dallas & Wisconsin and multiple other drop yards across the country.
As an experienced driver joining Roehl, you'll appreciate our commitment to safety and driver success - empowering you to do what you do best - excel at your truck driving job. Need a CDL? We have paid, on-the-job CDL training. Talk to a driver employment specialist to find the fleet that meets your needs.
Contact Info
Roehl
1916 E. 29th Street
Marshfield, WI 54449
Phone Number
Recruiting : 877-989-8933
Connect with Roehl