Metropolitan Trucking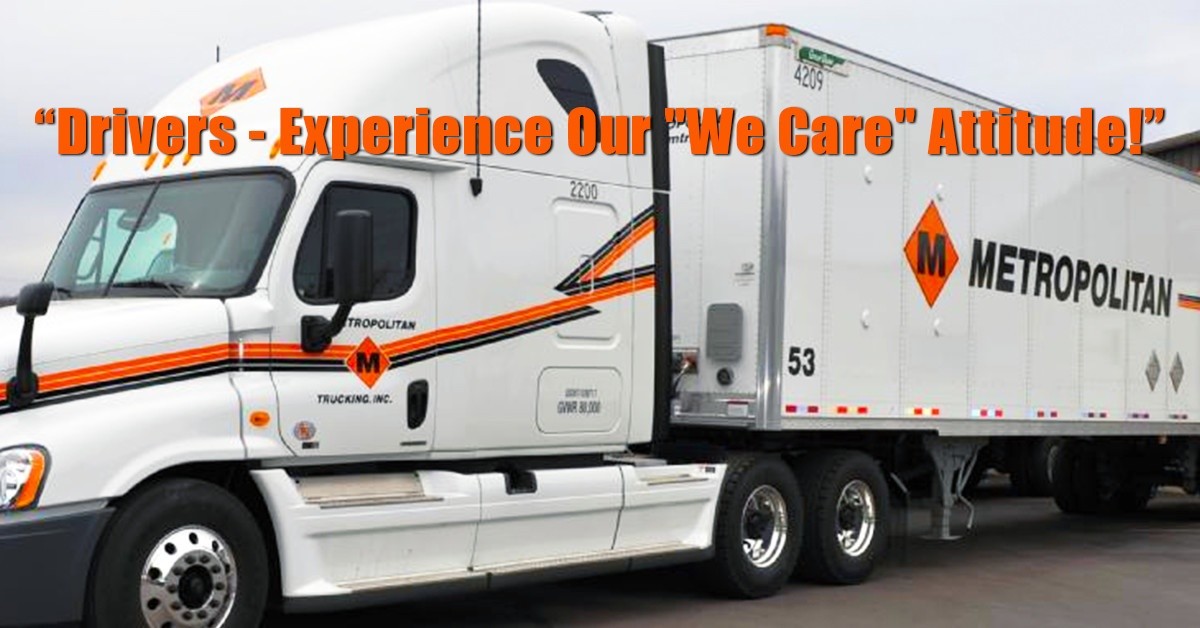 Truck Driving Jobs at Metropolitan Trucking
This company's jobs will be updated shortly...
Benefits
Health Insurance
Vision Insurance
Dental Insurance
Life Insurance
Paid Vacation
Paid Weekly
Layover Pay
Per Diem
Direct Deposit
Paid Orientation
Company Overview
Metropolitan Trucking
(877) 989-8208
Welcome Drivers! It won't take long for you to experience our "We Care" attitude. Family is important to us and that is why we are always looking for opportunities to match our driver's needs as professionals with a lifestyle benefiting both them and their families. At Metropolitan, we are committed to providing more pay per mile, and more miles per week while still offering the home time our drivers want and deserve. We also offer the most comprehensive benefit package in the industry today.
Everyone at Metropolitan understands and appreciates that a driver has the hardest job in our company. Treating our drivers with the respect they deserve is our top priority. We welcome you to join our family and become a part of the most dynamic team the trucking industry has to offer.
Metropolitan has a $1,000.00 a week minimum pay per week program for our drivers.
Why Work For Metropolitan?
◊ Family owned and operated for three generations
◊ Competitive Pay Packages
◊ Minimum Pay Program as a Safety Net for Consistent Paychecks
◊ Comprehensive Benefit Packages
◊ Fleet less than 2 Years Old average
◊ Assigned Equipment
◊ Open Door/Face-to-Face Communication
◊ Home Time to Meet Your Needs
◊ Award Programs
Call or Apply Today for More Information!

Contact Info
Metropolitan Trucking
6675 Low Street
Bloomsburg, PA 17815
Phone Number
Recruiting : 877-989-8208
Connect with Metropolitan Trucking