Crete Carrier Corporation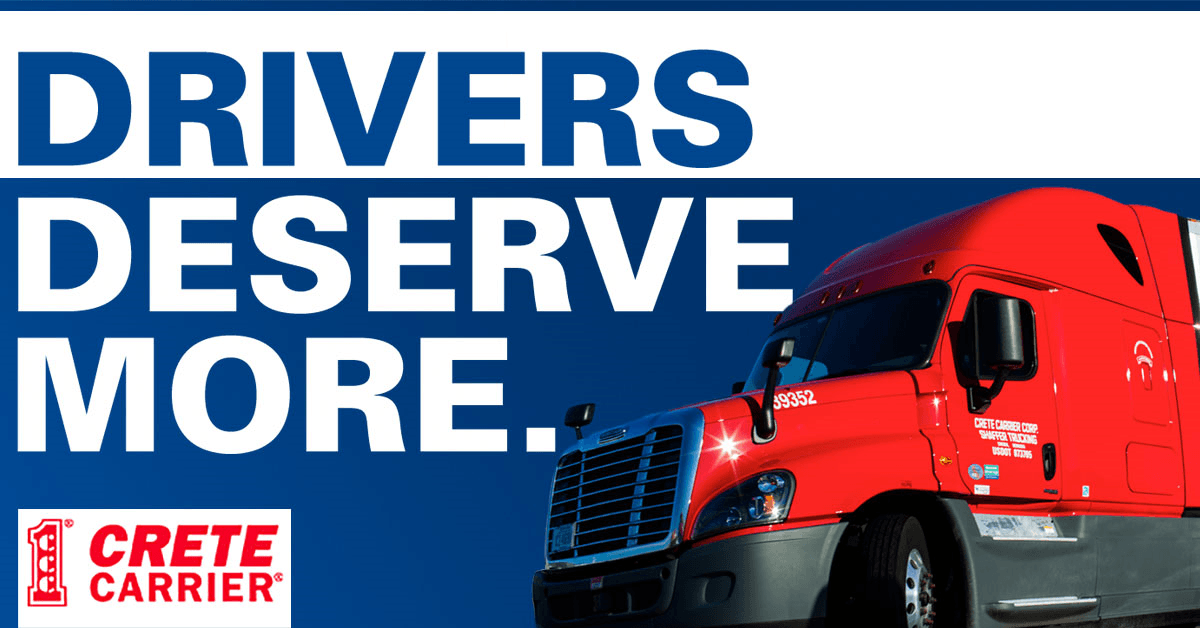 Truck Driving Jobs at Crete Carrier Corporation
This company's jobs will be updated shortly...
Requirements
Driver Type(s)
Company Driver
Owner Operator
Student Driver
Team Drivers
Benefits
Health Insurance
Vision Insurance
Dental Insurance
Life Insurance
Cargo / Collision / Liability Insurance
Retirement Plan
Paid Vacation
Paid Weekly
Layover Pay
Pickup/Drop Pay
Paid Fuel Surcharge
Direct Deposit
Base Plate & Permits
Paperless Logs
Rider Program
Long-Term-Care
Incentives
Lease Purchase Available
No-Touch Freight: 80%
24/7 Dispatch Available
Company Overview
Crete Carrier
(877) 990-5587
About Crete Carrier
Founded more than 50 years ago, Crete Carrier has grown to one of the nation's largest, privately held trucking companies. Along with sister company, Shaffer Trucking, and wholly-owned subsidiary, Hunt Transportation, Crete Carrier Corporation operates as a truckload and flatbed carrier of virtually any commodity. At Crete Carrier, we are dedicated to our drivers. As a result, we have one of the lowest driver turnover rates in the industry; with drivers staying with us three times longer than they do our competition. Our professional drivers are among the best on the highways, meeting standards far exceeding those required by the U.S. Department of Transportation.
Driver Pay
OTR drivers start out earning $.50 - $.53 per practical mile
The top 50% of our OTR drivers average over $81,300 per year
Awarded as a Top Pay Certified Carrier by the NTI for over 10 years
Safe Driver Productivity Bonus
Guaranteed Detention Pay
Benefits of Joining Crete Carrier
Full Benefits - Health from BCBS, dental, vision, life, and 401(k)
Annual profit sharing contribution

Contributed $10 million towards employee profit sharing in 2019!

Pet Policy: 2 dogs or cats
No-cost rider policy
Increased cruise speed
Paid orientation
Industry leading CSA scores
Average equipment age of 2 years
Dedicated Dispatch 24/7
Qualifications
Valid Class A CDL
Four months of verifiable tractor trailer experience *
Has passed the required company and DOT physical, required drug test, company in-truck driving test, and otherwise meets DOT requirements
Stable, verifiable work history
Minimum 22 years old
Has an acceptable driving record as reflected by MVR and PSP with no major preventable accident in the most recent five years
No DUI or DWI convictions or positive drug screens or events in the past five years
Able to perform functions set forth in the job description
*Some area restrictions apply
Contact Info
Crete Carrier Corporation
400 NW 56th Street
Lincoln, NE 68528
Phone Number
Recruiting : 877-990-5587
Connect with Crete Carrier Corporation
Videos
Dedicated Trucking Jobs at Crete Carrier