Andrus Transportation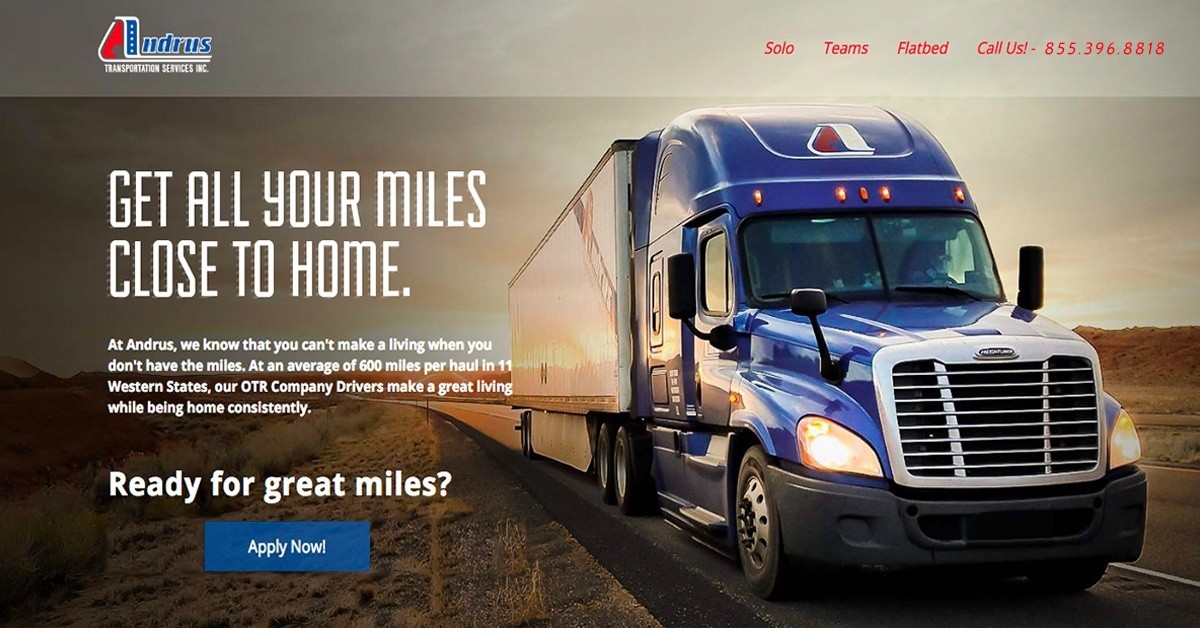 Truck Driving Jobs at Andrus Transportation
This company's jobs will be updated shortly...
Requirements
Driver Type(s)
Company Driver
Team Drivers
Benefits
Paid Vacation
Direct Deposit
New PAY PACKAGE featuring credit for previous experience and previous LONGEVITY with former carriers
Six PAID HOLIDAYS a year
Weekly Pay…Available on Your Comdata Card
Medical, Life, Disability and Dental Insurance
401k Retirement Plan
Detention Pay, Drop Pay, and Layover Pay
National Level Pay for Regional Work
Incentives
Sign On Bonus
Home on a Regular Basis
LONGEVITY BONUS – Solo drivers receive a QUARTERLY BONUS paid at .01 per mile driven that quarter after being employed one year. Team drivers also receive the Longevity bonus at .005 per mile driven per QUARTER after being employed for one year
Rider Policy Is Available
Mileage Bonus
Idle Bonus
Fuel Efficiency Bonus
National Level Pay for Regional Work
We Use Qualcomm & Transflow
Electronic logs and Pre pass transponders on all tractors
OTR Routes in 11 Western States
Personal Fleet Manager
Company Overview
Andrus Transportation
855-396-8818
Andrus Transportation is a family owned business, which means we understand how important home time is. One of our primary goals is to see that our drivers are not out longer than ten days at a time, with many being home on a weekly basis. Andrus Transportation was founded by a driver. Our main concern when doing business is our family of drivers and their families. We recognize our drivers are our number one asset.
Contact Info
Andrus Transportation
3185 E. Desert Drive N
St. George, UT 84790
Phone Number
Recruiting : 855-396-8818
Connect with Andrus Transportation